If you're looking for a way to store your photographs, ticket stubs, postcards or other memories, it may be time to consider scrapbooking. Not only does scrapbooking condense all your memorabilia into books, as opposed to taking up space in boxes, it can also allow you to revisit those memories whenever you wish with ease.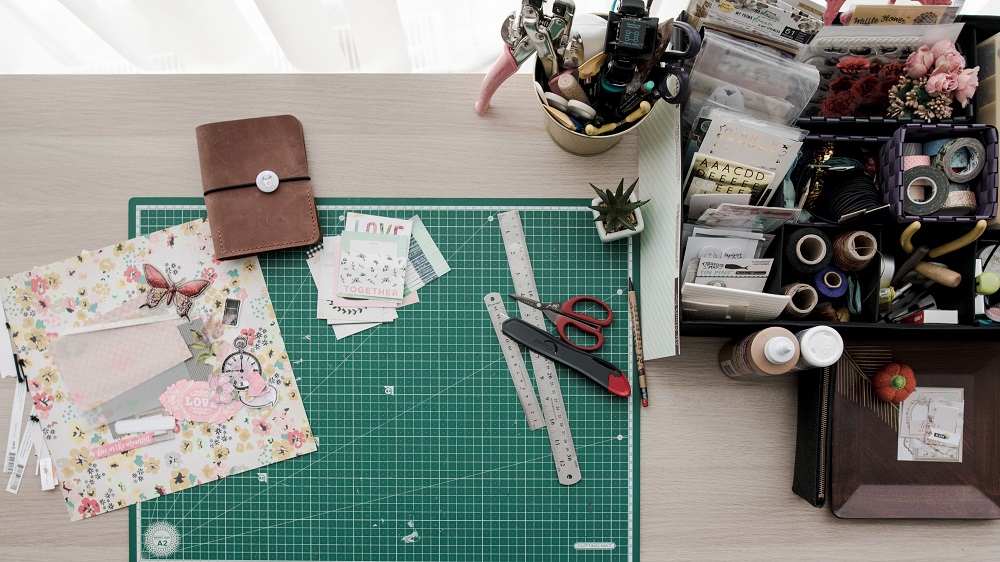 Read on for our four-step guide to making a scrapbook:
1.      Choose your scrapbook
The first thing you need is a book or notepad to use as a scrapbook. When choosing a scrapbook, it's important to choose one that is sturdy and strong, able to withstand the weight of all your paper and card.
Also, it's good to choose a scrapbook which doesn't have lined or squared paper. Although these can seem tempting choices since they allow for easier rigidity and form, choosing blank pages – whether you choose white or brown paper – can allow for greater creativity and expression.
2.      Get your supplies
Even a brand new scrapbooker will know that you'll need glue and scissors at your disposal, but what about all the other exciting supplies you can use? The world is your oyster.
Whether you decide to dabble with washi tape, choose to get creative with stickers, want to focus on highlighters or would like to bring some colour with felt-tips or coloured pencils, there are no wrong choices to make… unless you use a bottle load of glitter, since that's going to be very difficult to clean up!
One recommendation would be to get some photo corners. These nifty additions allow you to stick down photos and postcards and easily remove them again, without having to peel them off the paper.
3.      Decide on a theme
Since there are so many scrapbooking options out there, it can be tempting to just use everything. While that's not a bad decision to make, it can suit some scrapbookers' style to choose a theme or colour scheme to make sure that the scrapbook looks both memorable and stylish.
You could choose a colour scheme to reflect what your memories are about, such as shades of pastels or autumn colours, or you could choose a theme, such as concerts, for a section of your scrapbook. For a section on concerts, for example, you could focus on using stickers patterned with music notes and using darker colours, whereas you could draw on different textures for a theatre section, such as velvets, star stickers or 3-D sequins.
There are no wrong choices when it comes to choosing the style for your scrapbook, so it's up to you when it comes to choosing something that works best.
4.      Get scrapbooking!
Once you've decided what theme you're going for, what supplies you want to use, and what kind of scrapbook you will be using, it's now time to get your creativity going.
If you're using older photographs without digital backups, make sure you copy them or use a copy in your scrapbook, so that if you cut it or damage it, then you haven't lost the photo.
It's also a good idea to plan each page before you start sticking things down – make sure to lay out everything you want on your page before picking up the glue. That way, you can see how everything fits, whether you've got too much on a page, and what needs to be stuck down first.
All that you need to do now is to start scrapbooking, see where your creativity takes you, and make something that shows off your memories to their best so that you can treasure them for years to come.
If you'd like another way of storing your memories, why not consider self-storage? At Titan Storage, our clean, secure and safe storage units are the perfect place to keep boxes of possessions that you'd like to keep, but don't quite have the space for. Simply contact us or get a quote and start storing today!