Situated right on the commuter belt in the beautiful county of Berkshire, Bracknell is a great location to relocate to, whatever the reason for your move. Bracknell has a wide and varied history, ranging from the site where highwayman Dick Turpin used to have a pint, to an Iron Age hill fort named Caesar's Camp.
After the Second World War, it was designated a "new town", bringing on refurbishment of both town centre and residential areas, and further development was recently completed in 2017.
Not only a town of history and character, Bracknell is also a great place for families to relocate since there are fantastic house prices and good schools in the local area, as well as a perfect location for commuters heading up to London.
Property Sale and Rental Prices
Buying a house in Bracknell
According to RightMove, the average sale price of a house in Bracknell came to around £321,731, with most of the houses being terraced properties. Flats came in slightly lower at an average price of £237,541, and detached properties were higher at an average of £537,513.
(Data taken from Home.co.uk for Jan – Nov 2017. Above averages are for 2018)
With an overall average of housing prices at £350,905, Bracknell was considered cheaper than nearby areas, such as Bracknell Forest (average of £435,586) and Warfield (average of £450,565).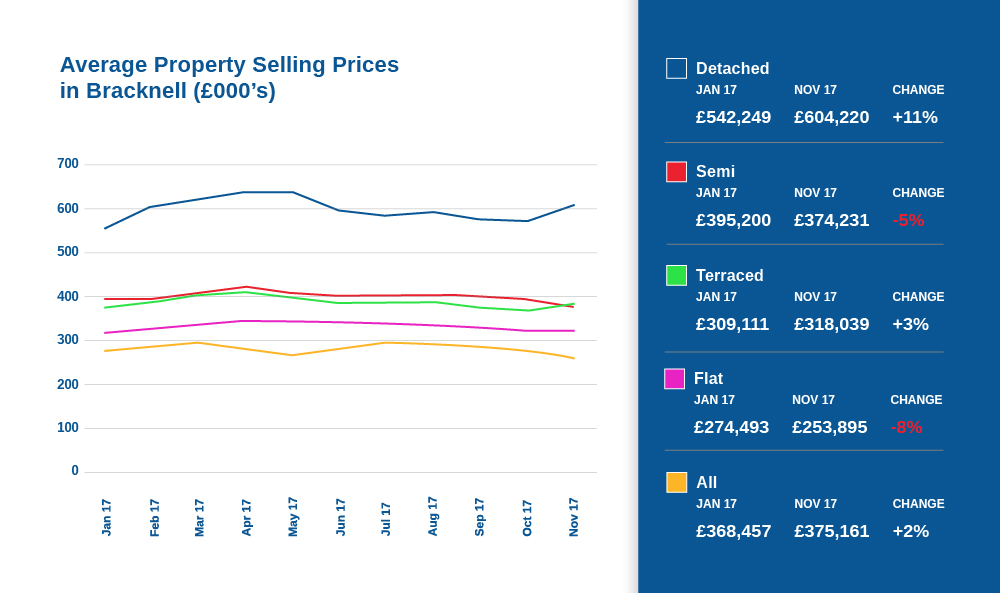 (Data taken from Home.co.uk for Jan – Nov 2017)
During the last year, the prices of sold properties in Bracknell were very similar to those recorded in the previous year. However, prices were 8% up on 2015, since averages then were around £323,888.
Renting a house in Bracknell
If buying a house in Bracknell doesn't quite suit your reason for moving there, or your budget, the possibility of renting is definitely achievable.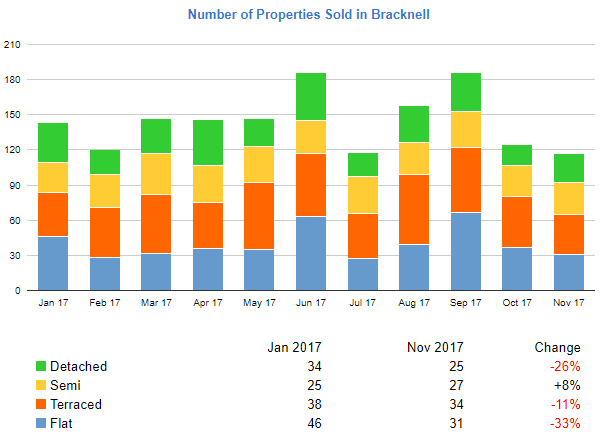 Rental prices of a property are, on average, around £1,747 pcm, with a 1 bedroom property at an average of £849 pcm and a 5 bedroom property averaging at £7,482.
If you're looking for help finding a property in the Bracknell area, it's definitely a good idea to check out the local estate agents in person, instead of purely doing your research online. This way, you'll not only be able to take a look at the local market but also take advantage of the experience and knowledge of the surrounding area that estate agents possess.
For local agents, try Sears Property, Chancellors, or Duncan Yeardley.
Moving to Bracknell
Moving home can be a stressful experience, especially if you're relocating to a completely new area or a different part of the UK. That's why we want to help you make that journey a little bit easier.
If your moving dates don't quite match up when moving to Bracknell, or furniture is being delivered before you have space for it, it might be a good idea to consider self-storage. Titan Storage offer a wide range of storage units with flexible rental periods and 24/7 access, in order to help you move with ease.
Whether you're deciding to rent your own van to make the move, or would prefer to hire someone else to do the job for you, there are many different companies located in and around Bracknell who would be happy to lend a hand.
If you're looking to hire your own van to conduct your move, and live in the local area, then BTC Vehicle Rentals would be a great choice. Based in Wokingham, BTC offer a wide range of vans to accommodate your things and are only a stones-throw away from Bracknell. Bracknell Transport Services is also a good option; based in Bracknell, this service will provide you with a van to use and then return right in the heart of the town.
Another option would be to hire a man in a van – these services are available across the country and can offer a number of different van sizes for all your possessions. If you need a bigger van or even a lorry to take your furniture to a new home, a removal company such as Bishops Move, would be most appropriate.
Find out more about which van size would be best for you in our blog.
What does Bracknell offer?
There are many ways to stay occupied in Bracknell, a town that offers a number of different services and entertainment facilities for all the family.
Over the past few years, the town centre has been under development and, at the end of 2017, it was finally completed! With more than 100 fashion and beauty brands, including Fenwick, a large selection of eateries, and ice skating, bowling and a cinema close nearby, the Lexicon is definitely fantastic asset to Bracknell's town centre. There's things to do for all the family and it also offers events throughout the year, so keep an eye on its website.
As well as the Lexicon, another place to entertain the whole family is the South Hill Park Arts Centre. With a wide variety of performances, exhibitions, festivals and workshops, you'll never run out of things to do there!
Finally, Bracknell is also a great place for high performing schools. This includes primary schools like Birch Hill Primary and St Joseph's Catholic Primary, and also secondary schools, such as Garth Hill College, Bracknell and Wokingham College, and Ranelagh CE.
Working in Bracknell
Whether you work from home, are based in Bracknell to work, or are commuting out of Bracknell to London, working in and around Bracknell couldn't be easier.
With train connections from both Bracknell and Martin's Heron train stations, the journey up to London Waterloo will take no longer than an hour, and the positioning of Bracknell makes it very easy to jump onto the M3 or M4 if you prefer to drive up to London or need to head to Heathrow airport.
If you work in Bracknell, and find yourself in need of a meeting room, why not hire one of the ones on offer at Titan Storage. Our meeting rooms come complete with Wi-Fi and coffee making facilities, allowing you to maintain professional approach in a relaxed atmosphere.