Located on the south coast of England, Bournemouth is the largest town in Dorset and is home to the UK's best beach – as voted in TripAdvisor's Traveller' Choice awards in 2019 for the second year in a row.
With an array of things to do, great transport links and educational institutes, living in Bournemouth is perfect for those who want to enjoy life by the seaside.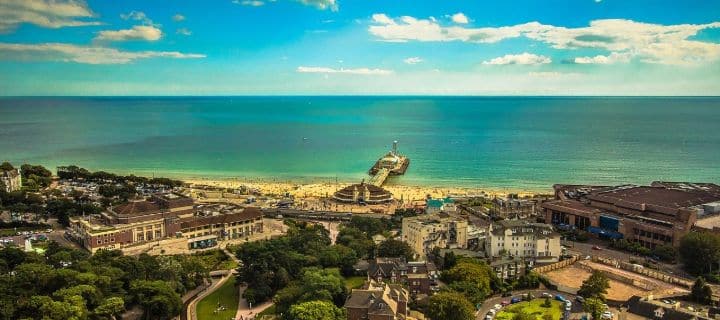 Average house prices in Bournemouth
According to Rightmove, the overall average house price of properties sold in Bournemouth was £290,353 over the last year. Of those properties, the majority were flats which sold for an average price of £202,771. This was followed by detached properties selling for an average price of £408,777, and semi-detached properties sold for an average of £265,475.
Overall, property prices in Bournemouth over the past year were up 3 per cent from the previous year and up 9 per cent from the 2017 peak of £265,475.
House rental prices in Bournemouth
According to home.co.uk, the average property rent price in Bournemouth is £1,230pcm of the 1,367 properties up for rent at the time of writing. The majority of these properties for rent are flats, followed by houses and room rentals. Out of these flats and houses, most were one or two-bedroom properties.
Areas nearby
Dorset and the surrounding areas of Bournemouth offer stunning scenery of rolling hills, sandy beaches and lush forests. Whether you choose to go north, east or west, you'll find somewhere new to explore including the town of Poole, the small village of Studland and the quaint market town of Wimborne.
Transport links in Bournemouth
Bournemouth has superb links to motorways, efficient public transport and even its own airport. Well served by three railway stations, you can reach various UK locations directly, as well as a fast service from London Waterloo in just 97 minutes.
There is also easy access to a fast ferry service linking Poole (Bournemouth's neighbouring port) with the Channel Islands of Guernsey and Jersey.
Schools in Bournemouth
Bournemouth is one of the few local authorities in England to still maintain selective education. The town is home to 26 primary schools, two grammar schools and ten secondary schools. There are also several independent schools as well as a further education college and two well-regarded universities.

Things to do in Bournemouth
With seven miles of sandy beaches, the coastal town of Bournemouth offers a whole host of activities and attractions for you to enjoy. If you're new to the area, you can get your bearings by taking a city sightseeing bus tour, taking you along the beautiful south coast and sharing fascinating facts about Bournemouth.
Notable attractions include Swanage Railway, Dorset Adventure Park, The Bournemouth Aquarium and the Russell-Cotes Art Gallery & Museum. Bournemouth also has a popular high street with well-known shops and department stores, independent boutiques and restaurants and cafes.
Bournemouth History
Where Bournemouth now stands was just heathland until the early 19th century. Lewis Tregonwell was regarded as the founder of Bournemouth in 1810, when he visited the beach with his wife, who later persuaded him to build a house there. Later in 1836, Sir George Tapps-Gervis created a resort at Bournemouth with villas for families to hire during the summer months. By 1840, a little village began to establish itself here, building work continued and the population grew.
The famous Bournemouth pier started as a wooden jetty in 1855, later being replaced by an iron version in 1880. It was also Bournemouth that invented the modern beach hut as we know today, and near the Bournemouth Seafront Office, you can see the first beach hut that was built in 1909 marked with a blue plaque.
Is Bournemouth a nice place to live?
Yes, Bournemouth is a beautiful and vibrant place to live. There's always so much going on and plenty to sea, and the stunning miles of sandy beaches speak for themselves.
If you're moving to Bournemouth to live, settle down and work, Titan Storage are here for you. We have a variety of flexible storage solutions that are helpful and convenient during a house move. Whether you want immediate short-term storage, or long-term storage for those items that don't have a place in your home at the moment, get in touch to see how we can help.