Littlehampton is a vibrant town situated on the stunning South Coast. It is considered a wonderful town to live in and move to, since the two award-winning beaches, the beautiful River Arun and large seafront green, are appealing to individuals, couples and families.
It's a seaside town with lots to see and do, plentiful character and much to explore, especially considering it dates back to prehistoric and Roman times. The area was owned, at one point, by the Earls of Arundel but it was developed from a small fishing community into a port to combat the narrowness of the river Arun.
With a dynamic range of contemporary architecture married with traditional, classic English seaside culture, Littlehampton is a fantastic place for anyone looking to move to the coast. With great housing prices, both in the renting and buying markets, good schools and a host of water sports and local activities to get involved in, Littlehampton might just become the home you were looking for.
Property Sale and Rental Prices
Buying a house in Littlehampton
According to RightMove, during 2017 the overall average sale price of a house in Littlehampton was around £306,738. Of those houses, the majority type sold were detached (with an average price of £462,221) followed by terraced houses (sold on average for £253,765) and semi-detached properties, which sold for an average price of £293,285.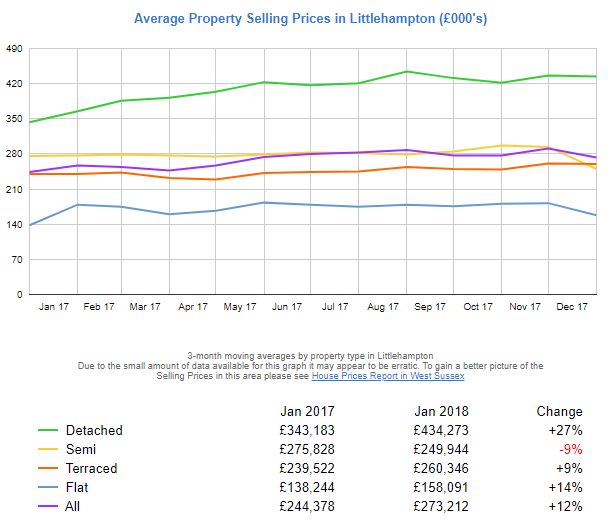 (Graph taken from Home.co.uk for Jan 2017 – Jan 2018.)
With an overall average of sold house prices at £306,738, Littlehampton was considered cheaper than the nearby areas of Rustington with properties selling there for around £342,413), Angmering-On-Sea with properties selling for an average of £522,750, and East Preston with average property prices of £417,827.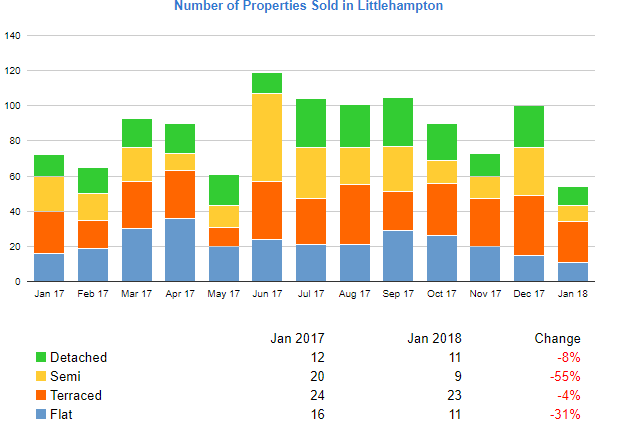 (Data taken from Home.co.uk for Jan 2017 – Jan 2018)
During last year, prices for houses in Littlehampton were 4% up on the previous year and 14% up on 2015 when the average house price was £268,726.
Renting a house in Littlehampton
If you're not ready to buy a house in Littlehampton, the rental options in this area are definitely something to consider.
Rental prices of a property are around £956 pcm on average, with a 1-bedroom property at an average of £644 pcm and a 5-bedroom property averaging at £1,695. The average rental price for a flat in Littlehampton comes in at £674 pcm and a house is higher with an average of £1,061.
If you're looking for help finding a property in the Littlehampton area, it's always a good idea to visit local estate agents in person, instead of only doing your research online – if you're able to do so. This way, you'll not only be able to see what's available on the local market but also take advantage of the experience and knowledge of the surrounding area that estate agents have.
For local agents, try Graham Butt, Glyn-Jones, or Leaders.
Moving to Littlehampton
Moving to a new house can be a stressful experience, especially if you're relocating to a completely new area or a different part of the UK. That's why we want to help you make your move simpler.
If your moving dates don't quite match up during your move to Littlehampton, or furniture is being delivered before you're able to find space for it, why not consider self-storage? Titan Storage offer a wide range of storage units with flexible rental periods and 24/7 access, so that you can use them when you want, for as long as you want,
Whether you're conducting your move using your own van, there are many different companies located in and around Littlehampton who would be happy to lend a hand.
If you're living locally and looking to either hire your own van to conduct your move, are renting a van, or would prefer to have someone else move your possessions, try Practical Car & Van Rental. Based in the heart of Littlehampton, Practical offers a large commercial fleet of vans to choose from, whatever size van you need. Apple Van Hire is also a good option; based in Littlehampton and Worthing, this service will provide you with a van fit for your specific requirements.
Another option would be to hire a man in a van – this enables you to hire not only an appropriately sized van for your move, but also a couple of pairs of helping hands for the day of your move. If you need a bigger van or even a lorry to transport your furniture when moving to a new home, a removal company such as Movefast, would be most appropriate.
Find out more about which van size would be best for your possessions and furniture in our blog.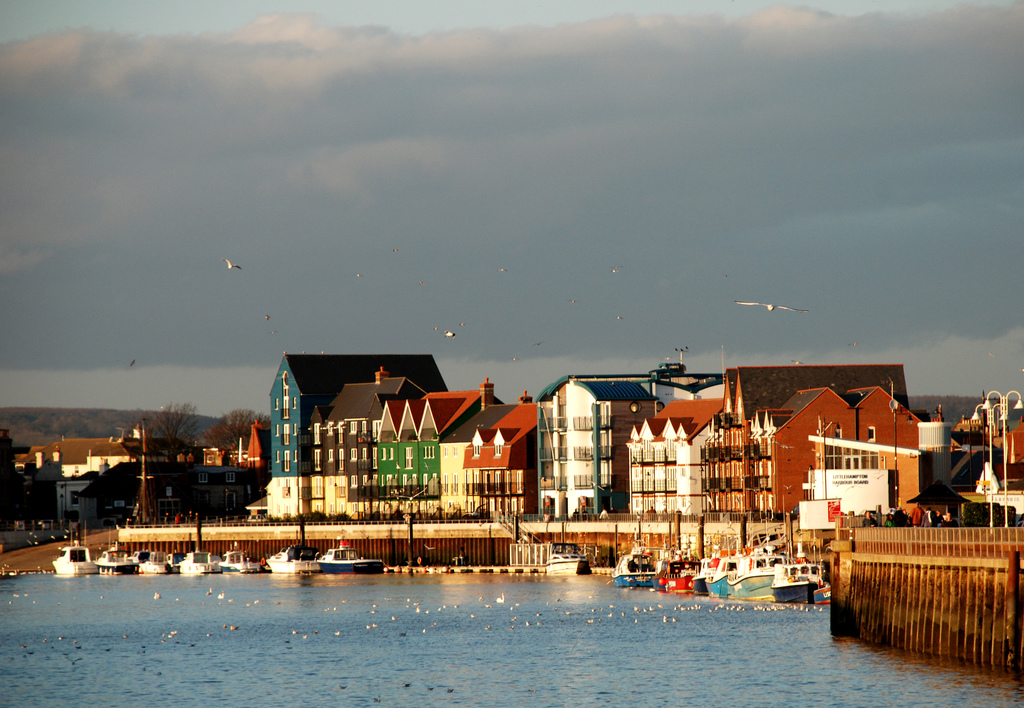 What does Littlehampton offer?
There are many different activities and places to explore in Littlehampton, a town renowned for it's status as a seaside resort and pleasure harbour.
With two gorgeous beaches to choose from, and the picturesque River Arun, you'll find a whole host of water sport opportunities at your fingertips. From kite surfing to paddle boarding, and many more in between, the new café and water sports venue will be the perfect day out for the family.
If water sports aren't your thing, don't worry. Over the years, Littlehampton has developed a wonderful town centre, full of a variety of vendors. Whether you're looking for high street brands and fashions or unique, independent shops, you'll find everything you're looking for.
We can't forget to include the Littlehampton Museum, the perfect place to visit if you'd like to discover more of the history of the town. With a collection of displays that offer fascinating insight into the town, and a variety of exciting galleries, visiting the Museum will be a day well spent.
For those moving to Littlehampton with small children, or the possibility of small children, you'll be pleased to know that it is a great area for local schools.  There is one secondary school – The Littlehampton Academy. Additionally, there are five different primary schools to choose from which were developed in 2011 to replace the existing primary school provision in the town.
Working in Littlehampton
Whether you work from home, are based in Littlehampton to work, or are commuting out of Littlehampton to Portsmouth, Southampton or Brighton, working in and around Littlehampton couldn't be easier.
With regular train connections from Littlehampton train station, the journey to Portsmouth will take just under an hour if you're coming into the central station of Portsmouth and Southsea. For Portsmouth Harbour, you should expect train times to be slightly longer – around an hour – since you will have to change at Barnham.
For Brighton, the journey is very simple with only one change at Hove and a total journey time of 45mins – 53 mins. Southampton's journey is the longest out of the three, with a journey length of up to two hours, depending on which train you get, and a required change at Barham again.
If you work in Littlehampton, and find yourself in need of a meeting room, why not hire one of the ones that we offer at Titan Storage? Our meeting rooms come complete with Wi-Fi and coffee making facilities, giving you everything you need to conduct a professional meeting.
Local amenities and clubs
Littlehampton has a lot of offer to those looking to move into the area. We've listed a few local companies you won't want to forget about.