A stunning town in the heart of Dorset, Poole is nothing short of picturesque. Surrounded by award-winning Blue Flag beaches, the town boasts the second largest harbour in the world, after the iconic Sydney Harbour.
Ideal for commuters and families, Poole offers easy access to London and the Home Counties, as well as the Jurassic Coast and the New Forest National Park.
It's easy to see why this is such a popular place to live and work.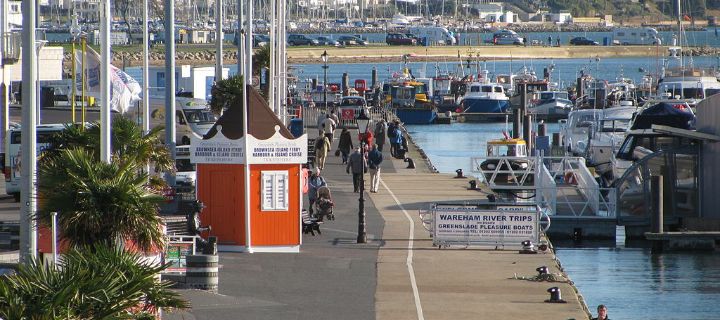 Average house prices in Poole
There are a wide variety of properties for sale in Poole, however the town is best known for its exclusive waterfront properties.
According to Right Move, the overall average property price in Poole in 2019 was £357,833. Of these properties, the majority were detached and sold for an average of £485,374. Flats sold for an average price of £288,463, while semi-detached properties reached an average of £297,813.
The average cost of properties in the area remained similar to that of the previous year. 2018's prices increased three per cent compared to 2017, when the average cost of a property was £346,235.
Properties in Poole have a similar average price to those in nearby Parkstone (£370,710), are more expensive than those in neighbouring Oakdale (£299,151) and are cheaper than those in Lower Parkstone (£471,845).
House rental prices in Poole
There are also plenty of rental properties available in Poole if you're not in a position to buy.
According to home.co.uk, there are currently 271 properties on the rental market in Poole, with an average rental price of £1,130pcm. The rental properties in the area are predominantly flats, followed by houses, with most having two or three bedrooms.
If you're looking for a larger property, there are a small number of rental properties available with five bedrooms.
Areas nearby
Poole is close to the resort town of Bournemouth, as well as Southampton and more rural areas, including Dorchester and Blandford Forum.
Transport links in Poole
Poole is a popular place for those working in the surrounding area but looking for a slower pace of life away from the office.
An express train service runs to London Waterloo, reaching the capital in under two hours and calling at Bournemouth, Brockenhurst, Southampton and Winchester. To the west of Poole, Wareham, Wool, Dorchester and Weymouth are all easily accessible by train.
Plenty of bus routes run through Poole and the surrounding areas and, for international travel, Bournemouth Airport is just a short drive away.
Ferry services also run to and from Poole harbour, covering major European ports. France is just a few hours away by ferry.
Schools
Poole is popular with families, thanks to the area's highly performing schools. Springdale First School, Broadstone First School and Rushcombe First School have all been rated as Outstanding by Ofsted.
In 2017, Ofsted's Regional Director for the South West stated that all of Poole's schools had performed above national levels in almost every area.
Parkstone Grammar School is one of the most highly regarded schools in the region, rated as Outstanding by Ofsted. Poole Grammar School and Talbot Heath School are other popular choices amongst students and parents alike.
Working and employment in Poole
Poole is a lively business hub, with many major businesses calling the town home. Head offices in the town include Barclays, Sunseeker International, LUSH and Animal.
Over recent years, property development has become a key part of the economy.
According to Uswitch, Poole and neighbouring Bournemouth have a good employment rate of 73 percent, with 44 percent of those employed working full time (35 – 45 hours per week).
Things to do in Poole
Poole is an incredibly desirable place to live and, with all of its amenities and attractions, it's easy to see why.
For shops and restaurants, the Quay should be your first port of call, but there are also plenty of great stores and eateries dotted around the town. For eating and drinking, you'll be spoilt for choice. The town offers everything from traditional pub food to fine continental dining.
The bustling Poole Quay is home to fishing boats, yachts and cruisers, as well as a host of historic buildings – a great spot for exploring. Away from the shoreline, Poole offers a great choice of parks and outdoor spaces, including Upton Country Park and Hamworthy Park. Poole Park is home to a boating lake, an ice rink, tennis courts and cafés.
Poole's centre for the arts, Lighthouse, hosts a wide variety of productions throughout the year and is also home to the Bournemouth Symphony Orchestra.
Living in Poole – Additional Information
With a climate that is typically milder than towns and cities located further inland, the weather in Poole is usually sunny and warm during the summer months. During the winter, the weather is typically cooler and wet.
Life expectancy in Poole is in line with the UK average, with men living to an average of 80 and women to an average of 84.
When it comes to the basics needed for modern life, Poole boasts 99 percent mobile phone coverage and high broadband speeds averaging at 29.7Mbps.
Poole history
The earliest records of Poole show that it was a key port, playing an important role in the local wool trade.
Poole Harbour was formed approximately 7,000 years ago, at the end of the last ice age, and the earliest artefact found in the area dates back to the third century BC.
Poole has a rich history. It is thought that the Roman invasion passed through the town, and there may also have been a small Norman settlement on the site. By the 15th century, Poole was a key port, with trading links across Europe. By the 18th century, it was the main port for trade with North America.
During the Industrial Revolution, Poole's population boomed.
Is Poole a nice place to live?
Yes! Poole is often named in the top 10 nicest places to live in the UK, and it's easy to see why.
What is Poole famous for?
Poole is perhaps most famous for having the second largest natural harbour in the world, after Sydney, Australia.
The town has connections to a host of famous names, including DJ Tony Blackburn, Lord of the Rings author J.R.R. Tolkien, Harry Redknapp, Jamie Redknapp and Blue Peter presenter Katy Hill.
Poole is a great place to settle down, live and work. And, if you're moving to the area, we can help. Here at Titan Storage, we can take care of storing your furniture or moving boxes that have arrived too soon. Get in touch with our Poole store to see how we can help.