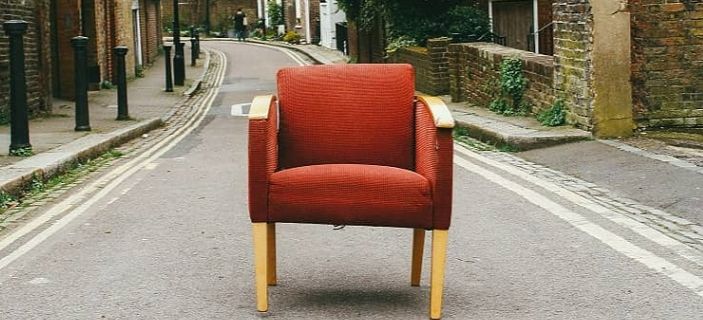 Heavy furniture can be a struggle to move when you're just rearranging a room, so it's going to be a lot worse when you're getting it out of one house and into another. That's why we've come up with 10 top tips to make moving heavy furniture a breeze when you're moving house this year.
Plan in advance
Before you even start moving furniture, it's always good to have a plan about where the furniture is going to be positioned in the new house. That way, there's only two times you'll have to move it – from the old house into a van, and then from the van into the new house. If you don't plan in advance, it's far more likely that the item of furniture will need to be manoeuvred a number of times while you work out where it'll look best. You can visit our free moving house checklist for further information.
Dismantle items where possible
If there are parts of your furniture that you can remove, especially awkward shaped pieces that protrude from the furniture, it's a good idea to take them off the item of furniture and package them separately to make it easier to manoeuvre furniture through doors and rooms. Make sure to label them so you can remember what item of furniture needs which pieces!
Protect furniture for moving
It's important to make sure that furniture doesn't get damaged during a move, so make sure it's packaged up in layers of bubble wrap, blankets and packaging plastic film to really safeguard against any scratches or scuffs. Discover how to pack your belongings when moving house reading our guide.
Carry items with care
When carrying items, it's important to lift carefully to make sure damage isn't done to the mover's back. Instead of bending at the waist to pick things up, bend at the knees and lift with a straight back. Another technique for improving carrying efficiency is to make it a two-man job, especially for larger items of furniture. Carry tall items high and low with one person carrying either end of the item, with the furniture tipped at an angle so that one end is lower than the other.
Manoeuvre doorways with ease
It can sometimes be difficult to get items through doorways, especially if they're larger or heavier items. When it comes to chairs, it can be a good technique to 'hook' the chair through the doorway by curling it round the doorframe on its side with the back going through the door first and pivoting the rest of the chair round. For larger items, such as sofas, place them on their end and then follow the same process as the chair. This method can also work with tables since you can often hook two legs through the door and then pivot the rest of the table round.
Use lifting straps
Lifting straps can be a great aid to help lift bigger, heavier items since they offer much more support to backs and shoulders to stop you from taking the strain. These also leave hands free to help manoeuvre the items with more dexterity.
Slide items of furniture if necessary
Furniture sliders can make moving heavy furniture a breeze if it's more difficult to pick up and manoeuvre by hand. If you're unable to find furniture sliders to buy, they can be made through using rugs, towels, carpet cut offs or plastic container lids or Frisbees. Make sure to only use soft sliders on hard surfaces and hard plastic sliders on soft surfaces.
Easy mattress transportation
There are two methods to transporting mattresses when you're moving to a new house. Trying to wrestle a heavy mattress down stairs or through rooms is no easy task, but a mattress sling could make that job a whole lot simpler for removals – simply assemble one with rope and hook it along the long side of the mattress and keep a steadying hand on the top.
Transportation processes for awkward items
There are a number of awkward shaped items that may be kept in your home that you're dreading having to move when you move:
A weighty instrument, like a piano, can be quite difficult to move but, if the legs can be removed, they can be easier to fit through doors. Upright pianos are often able to be wheeled through the house, although a grand piano will need specialist help and assistance.
Full length mirrors can be a risk to move since the threat of shattering is far greater than a smaller mirror, which can simply be wrapped and packed. To accommodate a larger mirror, it's often best to wrap and package it in its own special padded box.
With the ever-changing technology of televisions, it's becoming harder and harder to package them for moving. Boxes often aren't big enough to accommodate larger width televisions but, if you can find one big enough, or fit two together, you can pad the box with bedding and get it moved.
Kitchen appliances, especially larger ones like fridges and ovens, are the epitome of heavy furniture. The main thing to keep in mind, when moving them, is to disconnect all gas and electricity supplies. Make sure that these appliances are also empty and cleaned out before lifting or manoeuvring them.
Use ramps
If you have stairs in your property, chances are that you will need to get some furniture down stairs from your upper floors, or down the stairs in front of your property. For this, the best thing to use is a ramp. Whether you have professional metal ramps, or can simply use cardboard for smaller items, it will make the transition of your furniture from home to van much easier.
10 top tips for transporting heavy furniture when moving house
If you're moving house and need any supplies such as boxes or tape, or want somewhere to store less essential items while you move in the big pieces of furniture, why not take a look at what Titan Storage Solutions can do for you.