If you're reading this blog, chances are you are surrounded by packing boxes and tape, and you're overwhelmed wondering why you decided to do this in the first place.
Moving is one of the most stressful things you can do, and a huge part of that is packing. When you have a lot of stuff to go away, the thought of fitting it into boxes can be overwhelming. The Titan team are here to tell you, it can be a smooth process, we promise! Properly packing your items is essential to ensure their safety and maintain their condition while they're tucked away.
We've created a guide to ensure you aren't tearing your hair out when it comes to packing. Keep calm, breathe, and follow our guide on how to pack things for storage.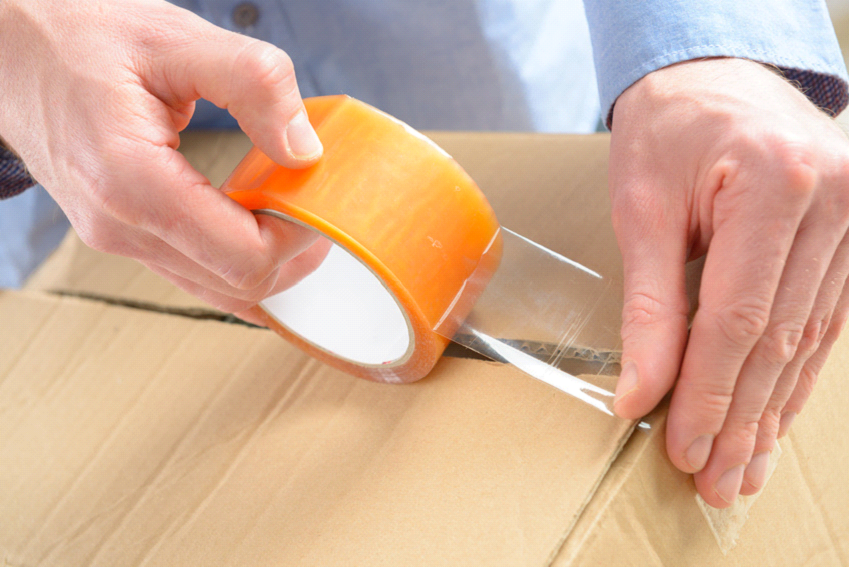 Storage boxes and packing materials
The earliest you can get organised for the packing, the better. Titan has a range of packing supplies at great prices that'll make the process far easier.
What packing materials and supplies will I need?
Avoid the temptation of using old boxes which have been stored at the back of the garage getting damp; you don't want to run the risk of them breaking during the move. Collect sturdy boxes, packing tape, bubble wrap, packing paper, markers and labels and get ready to be organised! Bonus points if you have a label maker.
How many storage boxes will I need?
How many storage boxes you'll need will largely depend on the size of your house and how much stuff you have.
We would recommend:
1 bedroom house:
Small: 20-30 boxes
Medium: 30-40 boxes
Large: 40-60+ boxes
2-bedroom house
Small: 20-30 boxes
Medium: 30-40 boxes
Large: 40-60+ boxes
3-bedroom house
Small: 30-40 boxes
Medium: 40-60 boxes
Large: 60-80+ boxes
Using the correct packing tape
Use quality, sturdy tape to ensure the boxes are completely secure. Our packing tape will ensure your moving process runs as smoothly as possible.
Keeping an inventory
Please don't make the mistake of throwing things into boxes and hoping for the best! Keep an inventory of the items you're storing. This will help you remember what's in each box and assist you in locating items when needed.
Categorise your list by room or function for ease.
Where possible, make the list digital to ensure it doesn't get lost amidst the boxes.
Consider how long you'll be storing the items. This will help you prioritise what you might need to access sooner versus later.
As you pack items into boxes, label each box with a number or label that corresponds to the item on your list.
Alongside your packing list, take photos of items and their condition before storage.
If you add or remove items from storage, update your list accordingly.
How To Organise Your Storage Unit Boxes
If you're storing items long-term or in an area with fluctuating temperatures, consider climate-controlled storage. This ensures that sensitive items like electronics, artwork, and wooden furniture are protected from extreme conditions. All of our storage solutions are temperature controlled and protect important items from the elements.
How To Pack Boxes for Storage
Now you are ready to make a start. If it makes it easier, focus on a particular room or type of item, to begin with, and once you're underway, the job tends to be much less daunting.
How much weight can you put in storage boxes?
Distribute weight evenly to prevent boxes from becoming too heavy or imbalanced. If you think you're overfilling a box, you probably are. Make sure you get plenty of boxes, you can always donate any you don't use. If you're working alone, test that you can comfortably lift any box before sealing it tightly with tape and labelling it.
Place heavier items at the bottom
When it comes to filling up the boxes, you want to think like you're packing food shopping. Place heavier items at the bottom of boxes and lighter items on top.
How To Protect Furniture in Storage
Clean all furniture pieces thoroughly before placing them in storage. Dust, dirt, and stains can become harder to remove over time and might cause damage.
Dismantle furniture items
For furniture and larger items, disassemble them whenever possible. Keep screws, bolts, and other small parts in labelled bags taped to the furniture for easy reassembly later. If you're working alone, consider hiring help. Services can support you with taking down furniture, packing boxes and moving these to the new location. Having someone help you during this process can make a world of difference.
Protect furniture with covers
Use furniture blankets, bubble wrap, or moving pads to cover each piece of furniture. This protects them from dust, scratches, and minor impacts.
Protecting Fragile Items for Storage
You don't want to make the process more stressful by smashing up half of the things you want to store. Wrap each item individually with bubble wrap or foam sheets. For delicate pieces, consider wrapping them in multiple layers for added protection. Place a layer of packing peanuts or crumpled paper at the bottom of the box to create a cushioning base.
Protect fragile items with bubble wrap
Bubble wrap is flexible and can be easily moulded around irregularly shaped items. In addition to its protective properties, bubble wrap also offers a degree of thermal insulation.
Pack plates vertically
Packing plates vertically, also known as "plate stacking," is an effective way to protect delicate dishware and maximize space in your moving boxes or storage containers. Wrap up each plate individually and make sure you fill in the gaps to avoid direct contact.
Protect mirrors
Avoid 7 years of bad luck by keeping your mirrors safe! Clean the mirror's surface with a gentle glass cleaner and a soft cloth to remove dirt and smudges. Make sure the mirror is completely dry before packing. Select a mirror box that is slightly larger than the mirror's dimensions and line it with bubble wrap or crumpled packaging paper. Place corner protectors on each corner of the mirror to provide extra protection against impact. Place the wrapped mirror in the box and make sure you label it 'fragile.'
Make use of pillows, bedsheets and towels
Obviously, you are going to be taking a fair amount of these materials which take up a lot of space. Instead, utilise them to protect your valuables from dust and impact.
Packing for storage tips from the experts
The team at Titan have years of experience in packing and storing things securely and we've learnt a few tips over the years to help packing and moving go much smoother.
Declutter anything you don't need
Before you start packing, take a good look at your belongings. Although you're putting things into storage, you don't want to hold onto anything you don't really want. Decide what's essential and what you can part with. This helps you save space and ensures that you're only storing items you truly need.
Create a pile of items to donate to the charity shop, and ensure you recycle anything you can. Let friends and family know your decluttering and see if there's anything they might want. One man's trash is another man's treasure after all!
Keep electronics in their original boxes
Where possible, keep hold of the original boxes in which electricals, particularly larger items, come in. To save space, cut and fold them down when not in use and reassemble them with strong tape. This will allow you to see what's inside at a glance.
Secure bottled items
Securing bottled items is important to prevent breakage and leakage during storage or transportation. Ensure that all bottles have tightly sealed caps or lids and place them in sealed plastic bags to provide an additional layer of protection. Store bottles upright to minimise the risk of leakage.
Place small things into plastic tubs or containers
You know all those Chinese takeaway tubs you have at the back of the cupboard? Now is the time to utilise them! Use these as storage for those small bits and bobs that would otherwise get lost.
Be extra careful with jewellery
It goes without saying but be extra mindful when it comes to delicate items such as jewellery. We would recommend taking anything valuable or sentimental along in a personal handbag, so you know where it is always.
Never pack hazardous items
Hazardous materials can pose significant risks to people, property, and the environment. Laws and regulations are in place to control the storage, handling, transportation, and disposal of hazardous materials and storage facilities are required to comply with these standards.
Pack up unessential items early
Clothes you aren't currently wearing, décor and seasonal items are all things which can go into the boxes at the earliest convenience. The more packing you are able to do ahead of the day, the better. Consider which items you'll need immediately and which you can survive a few weeks without.
Storage hacks
Once you've packed up all your boxes and got to the storage unit, it's time to fill up your space. Just like the packing process, there are steps you can take to make it easier for yourself.
Place larger, heavier items at the back of the storage unit and utilise vertical space by stacking boxes and lighter items. Create walkways for easy access to your belongings.
Avoid packing items too tightly in the storage unit. Leave a bit of space between boxes and items to allow for air circulation.
If you anticipate needing to access certain items while they're in storage, place them near the front of the unit for easy retrieval.
And there you have it! Although packing boxes and storing them can feel like a slog, once things are safely stored away, you'll have a weight lifted from your shoulders. Many people use storage solutions to get rid of clutter and give themselves extra space in their homes. This can be extremely liberating and allows you to make more out of what you have.
At Titan, we have unique storage solutions for a range of different needs. Right now, you can get your self-storage unit for 50% off the first 2 months! Get in touch with the Titan team today to find out more.