Known for its wide boulevards, Georgian and Edwardian architecture and stunning parks, it's easy to see why Royal Leamington Spa is a popular destination for families, retirees and young professionals alike. In fact, in 2017, it was named as the happiest place in England.
Here's our guide to buying or renting a property in Leamington Spa to help you move to this popular area of Warwickshire.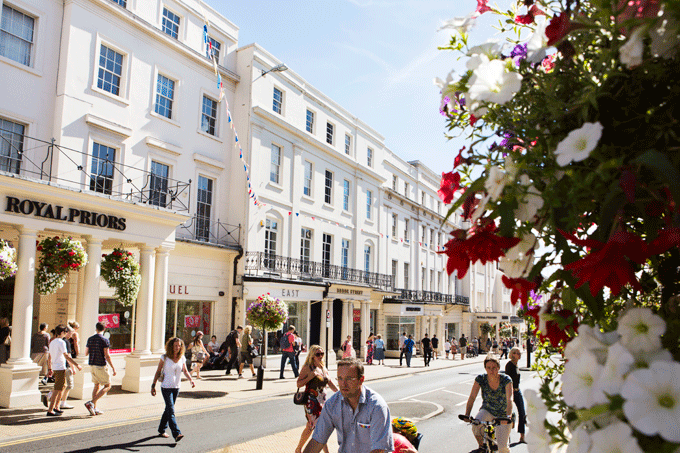 Average house prices in Leamington Spa
According to Right Move, during 2019 the overall average price of properties sold in Leamington Spa was £348,402. Of those properties, the majority were semi-detached (with an average price of £323,248), followed by terraced properties (sold on average for £340,662) and apartments, which sold for an average price of £252,314.
Last year, prices in Leamington Spa were similar to the previous year and were up 7% on 2016, when the overall average house price was £324,100. Average prices in the area remain similar to that of properties in nearby Warwick (£331,517), but more expensive than neighbouring Whitnash (£287,489) and Cubbington (£312,889).
The area's iconic Regency town houses are particularly popular with buyers, but their popularity is reflected in the price. At the higher end of the budget, Lansdowne Circus is another popular area, while the old town area offers plenty of Regency style cottages. The west of the town centre should be your first port of call if you're looking for a local, village feel, while the east side is home to lots of apartments within former Regency townhouses.
House rental prices in Leamington Spa
If you're not ready to commit to buying a property in Leamington Spa, there are also plenty of rental opportunities.
Rental properties range from £595 per month for a one-bedroom studio flat, to £820 per month for a two-bedroom maisonette.
Areas nearby
The ancient town of Warwick is located roughly three miles to the west of the town, with Stratford-upon-Avon to the south west. Coventry and Kenilworth are also close by, along with Cubbington, Old Milverton and Radford Semele.
Transport Links in Leamington Spa
Although the town has a distinctly countryside feel, it is within easy reach of larger cities, including Warwick, Stratford upon Avon, Kenilworth, Solihull and Birmingham.
Leamington Spa is located just five miles from the M40, which connects London and the Midlands, and is also easily accessible from the M6, A46 and M45.
From Leamington Spa's central train station, it's just a 25-minute journey to Birmingham city centre and one hour, 15 minutes to London Marylebone.
Frequent bus services also run throughout the area.
Schools in Leamington Spa
Leamington Spa is home to a number of state schools, including North Leamington School, Campion School and Trinity Catholic School. There are also several independent schools, including Arnold Lodge School and Kingsley School.
In the surrounding areas, Warwickshire has some of the best independent schools in the country. Stratford-upon-Avon is served by The Croft Preparatory School, King Edward Grammar School for Boys, Shottery Grammar School for Girls and Stratford-upon-Avon High School.
Working and employment in Leamington Spa
Leamington Spa is fast becoming a hub for the gaming industry, with a constantly growing number of games companies earning it the title "Silicon Spa". As a result, the town is home to a higher than average proportion of digital companies working in games development, digital design and publishing.
Things to do in Leamington Spa
Royal Leamington Spa has plenty to offer in terms of shopping and leisure.
There are over 40 restaurants and takeaways, around 50 bars and countless cafes. It's also a great spot for shopping, with a wide variety of boutiques and salons, as well as national, high street brands.
If fresh air is more your thing, the town is home to a variety of green spaces, including Jephson Gardens, Mill Gardens, Pump Room Gardens and Victoria Park. You can also hire rowing boats and canoes on the River Leam, or simply sit on the banks of the river and watch the world go by.The Royal Pump Rooms are one of the town's most popular historic attractions, while the Leamington Spa Art Gallery and Museum hosts a wide variety of events and exhibitions throughout the year.
Leamington Spa's history
The Leamington Spa we know today was built on the site of a much smaller village known as Leamington Priors. Today, two original buildings from the former village can still be seen to the east of the Parish church.
In the nineteenth century, the town became a fashionable resort, with visitors flocking from all over the world to the spring waters they believed could cure or treat their illnesses and ailments.
During the early to mid nineteenth century, Leamington was laid out as a new town, with wide streets running in an organised grid.
Is Leamington Spa a nice place to live?
Yes! Leamington Spa is one of the most desirable places to live in the UK. And, with its large open spaces, stunning properties and many amenities, it's easy to see why.
What is Leamington Spa famous for?
Leamington Spa is famous around the world for its mineral springs. The town has also been featured in a number of TV series, including Keeping Up Appearances, Dangerfield and ChuckleVision.
Famous people from Leamington Spa include TV presenter Anne Diamond, comedian Russell Howard and the inventor of the jet engine, Frank Whittle.
Leamington Spa is a great place to settle down, live and work. And, if you're moving to the area, we can help. Here at Titan Storage, we can take care of storing your furniture or moving boxes that have arrived too soon. Get in touch to see how we can help.