There are a lot of things to think about when moving to a new house. Not only is there the preparation of your old house for moving out, but also the organisation of everything you are taking with you, from utilities and letters all the way to possessions and furniture. To make the build up to moving day much easier and less taxing on you, we've come up with a list to help you approach all the main tasks with ease.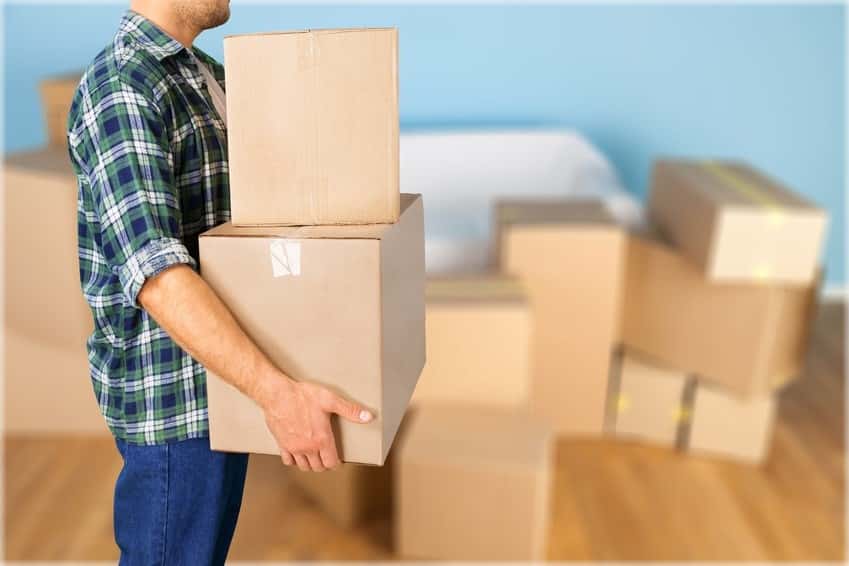 Packing
This is definitely one of the most important parts of your move, and a task we're sure you hadn't forgotten. However, you may not know some of the top tips and tricks that can make packing all of your belongings simple and straightforward.
Make sure to start with rooms you least use, especially in the run up to your move. If you're not having guests over, then pack up the spare room first. If it's the middle of winter and you're not going to get out into the garden for a while, then pack up the shed first. This will help to make sure you're not packing up things that you're then hunting through boxes to find.
Labelling
A good way of reducing the chaos of a house move is by using a labelling system. There's nothing worse than having to rummage around a pile of unlabelled boxes when all you want is to find the kettle for a cup of tea!
Colour code labels: Assign each room a colour and use coloured pens to mark your boxes. Not only is this system nice and easy, it also helps the removal workers as they know what box to put where.
Priority code labels: Label your boxes in priority order to make sure you know which ones need to be unpacked first. You can use '1,2 and 3', 'A, B and C', or 'H' for high, 'M' for medium, and 'L' for low priority.
Don't forget to mark boxes of breakable items 'Fragile', or 'Handle with care' in big, bold letters to make sure the carrier is aware of what's inside!
Moving vans
Whether you're moving all your things yourself, or you're hiring a moving service, sorting out moving vans is an integral part of moving house. You will need to work out how much you have to take with you, whether you're bringing white goods and large pieces of furniture, and the time frames you have to move these items.
There are a number of different size vans available for personal use, from transits to Luton lorries, so it's important to do your research into the van size that you think would be most appropriate for the amount of boxes and furniture you are going to be moving. If you need help with that research, we've also written a blog on the subject of moving van that you can find here.
For an alternative option, you can hire a moving company to transport your belongings to your new house. These companies will often provide helping hands for you to help get everything loaded into the vans.
Furniture deliveries
If you're ordering new furniture for your new home, especially large pieces of furniture such as beds or sofas, the time or date that they will be delivered doesn't always coincide with the move in date.
If this happens, there's nothing to worry about. While you may be concerned about where you can store an extra sofa before your move in date, or where your old sofa could go while you sort out getting rid of it, there's a simple option for you.
A self-storage unit, such as the ones available at Titan Storage, can take this problem off your hands. With flexible storage periods and 24/7 access, you'll be able to store your new, or old, sofa for as long as you need before you decide what to do with it.
Admin
Whether it's sorting out where letters will be sent when you move, connecting internet and utilities to your new home, or changing your address on your driving license and other contact forms, there are a number of admin jobs that need to be remembered before you move.
Make a list of everything that you currently pay bills for, such as electricity and water, and contact your providers to see if everything can be switched over on the day you move. If you've found a cheaper option in the area you're moving to, contact them before you move to start getting everything sorted so you don't have that stress.
For address changes, there are a number of different people you need to tell when you move. Your employer needs to be notified of your address, your national insurance, your local council for council tax, and the electoral roll. You will also need to change your address on your driving license and bank card billing address.
In terms of recreational services, magazine and newspaper subscriptions will need to be changed, as will your gym membership and any clubs or societies you attend.
Children and pets
While your children may be very excited about moving to a new house, it can get quite emotional both when leaving the old house and when moving into the new one. For that reason, it can be prudent to organise someone to look after any children you have while you get the bulk of the moving done and then have them dropped off when it's time to unpack their rooms.
Similarly, with pets, it's better to have them out of the house when moving is happening since they can often get unnerved by the commotion and the new surroundings.
If you're looking for somewhere to store belongings when you move, or looking for packing supplies, come to Titan Storage. We're happy to organise the flexible time periods we offer for self-storage use so that you can plan it perfectly around your move.