Halloween is just around the corner so, unless you're already prepared, you may be wondering what sort of costumes your children will need for their trick or treating adventures.
If the idea of going out and buying a brand-new costume has you tightening your purse strings, help is at hand. We've put together a list of five Halloween costumes that you can DIY with things you already have at home!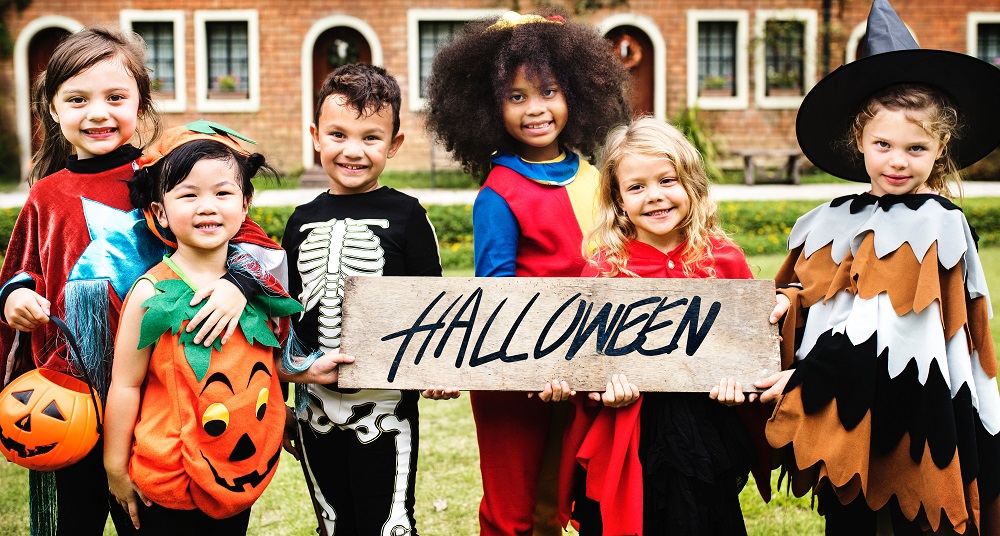 Put your best paw forwards
When considering simple and easy Halloween costumes to put together on short notice, you can't go wrong with a black cat.
Simply start assembling the quintessentially spooky feline by pairing a pair of black leggings or trousers with a long or short-sleeved black t-shirt. After that, if you have a headband or Alice band laying around, cut out a couple of triangles from black paper or cardboard and glue them onto the band to create the ears. Headbands or Alice bands are quite easy to get from a supermarket or accessories store if you don't have one on you, or you could glue the ears to hairclips instead.
Finally, stuff a long black sock with either other socks or stuffing and pin to the waistband of the trousers to create a tail.
Get inspired by the undead
If your child is looking for a costume that's a little gorier and genuinely scary, a zombie may be a popular suggestion.
All you need for this costume are some old clothes you don't mind tearing up a bit, some face paint and fake blood. Whether you're using your own old clothes, or your child's castoffs, begin your costume creation by ripping and cutting some holes in the clothing to make it look raggedy and distressed. Finish off the clothing with a spattering of fake blood.
Now, zombies aren't normally rosy cheeked or, well, alive, so to give your child that undead look, apply a coating of grey face paint to any visible skin. If you'd like to add to the illusion, and you've got fake blood that wouldn't be harmful if ingested, you could apply some to your child's face as well.
Put the spectre in spectacular
We're all aware of the very traditional approach to ghosts on Halloween – in years gone by, a sheet with two eyeholes cut out would have been the only thing you'd need to pass off as a convincing ghost.
Nowadays though, ghost costumes have become a little more sophisticated. While you can still go for the tried and tested sheet method, there is an alternative that reflects the kinds of ghosts that are commonly seen in today's films and tv shows.
All you need for this costume is a set of clothes that you don't mind your child never wearing again, a can of grey spray paint, and some grey face paint. If you can find clothes in a charity shop that may be a little more dated, these could work better so that your little ghost can look like they come from a different era.
Once the clothes are collected together, spray them grey with the paint (you could alternatively dye the clothes grey if you have more time). When Halloween comes around, paint their skin a pale white or grey with face paint. This will give your little ghost the kind of spectral appearance they can be proud of.
Cast a spell in style
There are two options for the classic witch or wizard costume. You can either go the traditional "wicked" Halloween route, or head more towards the modern-day witch or wizard from the Harry Potter series.
If you're going classic, a pointy hat is a must. Find out how to create your hat here. Pair your child's newly made hat with a black dress or black trousers and top, and don't forget a cape! This can be made easily with a piece of fabric, or even a bin bag if necessary.
A broom for your little witch or wizard can be made from a regular broomstick with twigs taped around one end.
For the Harry Potter route, a school uniform is the best place to start. If your child already wears grey trousers and a white shirt or polo shirt to school, you're already part way there. If not, these items can be quite easy to pick up from an inexpensive clothing shop. Add a grey jumper to the costume, a stripy tie and scarf, and a wand made from a stick from the garden.
Count yourself lucky with this costume
One of the oldest and most well-known monsters from books and tv is the notorious Count Dracula. Emulating the style of the vampire, or his minions, is a relatively easy task, requiring only a couple of accessories.
Begin your costume creation with either a smart pair of trousers and a white shirt, or a fancy dress. Vampires always seem to be the most stylish of monsters, but you don't need to break the bank – a school uniform could be the easiest way to achieve this. Add a cape with a high collar to the ensemble, which is relatively easy to make with some fabric and cardboard, and find yourself some vampire teeth from a supermarket or fancy-dress store.
On the other hand, if you don't want to dabble in DIY – George at Asda and Sainsburys are selling some fantastic, inexpensive costumes just in time for Halloween! Additionally, if you don't want to go through this whole process again next year, why not store your 2018 Halloween costumes after next week, and then you can keep them for 2019 without losing any wardrobe space at home.